Print, Pack & Ship
Print Fulfillment Service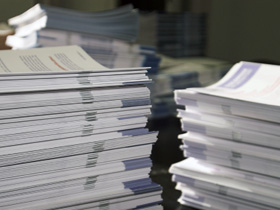 If you're conducting an important business meeting or conference, you'll often need some kind printed support material for your colleagues or audience. Producing this in high volumes at short notice requires expertise. Park Print has that necessary expertise and experience to offer a complete and reliable print fulfillment service. We will not only print your materials, but also carefully hand-assemble your information folders or binders. This can also involve labeling, folding, laminating and other finishing requirements. We'll then package them up and deliver or ship them on time to the meeting or conference location of your choice.
Cast study 1
A realtor in West Virginia was scheduled to give a presentation at a hotel in Marlboro, MA. He e-mailed us his information packets and we printed multiple copies, assembled them in attractive folders (which we ordered) and delivered the packets to the hotel on time.
Cast study 2
A health care facility needed samples of all their forms in easy-to-use binders. We printed the forms, assembled the binders and delivered them to the client on time.
See also: Print Finishing | Pick-up & Delivery